Algarve Surfcamp Portugal
AMADO SURFCAMP
YES! You too can learn to surf
in our Algarve surfcamp
Algarve surfcamp, in Portugal, is in breathtaking Sagres county.
From 255€ a week, our surf packages start ANY weekday and include 7 days of surf lessons in our epic surf school (two surf lessons of one and half hours each per day), equipment, accommodation, and breakfast.
See our Algarve surfcamp and surf school locations in Sagres and Carrapateira, and start dreaming :)…with a VIRTUAL TOUR and DRONE VIDEO for YOU, ENJOY!
Our Algarve surfcamp packages
YES! You are booking directly with the Algarve surfcamp Amado: no middlemen
This is the real Algarve surfcamp Amado, we are not a consolidator tutti-frutti webpage offering you an infinity of surfcamps worldwide.
Direct booking with the owner means speed and accuracy, we take responsibility for everything, there is no one else to blame. We are surfers and specialists in the only thing we sell: Our Algarve surfcamp and surf school Amado.
HI THIS IS JUAN CASTRO,
AT YOUR SERVICE!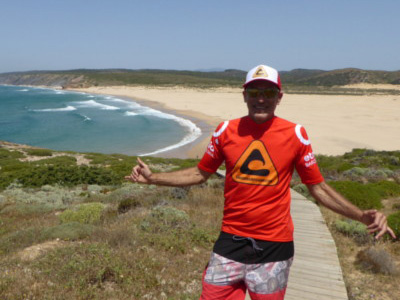 We take pride in answering very fast: 50% of emails in 1 hour, 90% in less than 4 hours 100% in the same day
The most beautiful thing we have seen written about us by... Redbull!
"Probably the most unpretentious surf camp in the world is located in Carrapateira behind a hill in the middle of some fields.
Surfing takes place at Praia Amado, a 30-minute walk away. The instructors are real originals.
Biggest plus: Original Italian pizza from the stone oven – every day!"
P.S Look for consistent waves and a friendly Surfschool
The most consistent waves in a 
Surfcamp in Portugal 
 and all over Europe are here in Carrapateira, even in August. You need to be sure that there are waves in your destination, the time of the year you choose for your surf vacation before booking. This way you will not be disappointed.
Everybody can 
learn to surf with us in Portugal
. From zero to hero, in the friendliest 
Surf School in Portugal
, 
no matter your sex, age, etc.. at your own pace, remember that the best surfer is the one having the most fun :). Our instructors are trained to be sensitive to the particular needs of families, women, and children, we have instructors of both sexes.
P.S II A word about Amado Surfcamp
Somebody said good businesses go bad and bad businesses disappear. This is not going to happen here, at the Amado Surfschool and Surfcamp in the Algarve, in Carrapateira, rest assured. We are locals from Carrapateira, and passionate about surfing, long before surfing became "cool" and Carrapateira became one of the European surfing capitals.
The school and camp have been up and running for 15+ years. We started in a very humble way, betting all our scarce resources and a lot of hard work in it, coming from a local fishermen's family. The bet proved right over time, and we are very happy to have the chance to serve you, in your first contact with surfing or helping you in improving your surfing ability.
We don't forget our humble origins and have nowhere else to go and try "a second chance" elsewhere if we don't work to your entire satisfaction. So rest assured, we or our descendants will be here for many years to come, and you will be able to bring your children and your grandchildren when you hear the surfing call from Carrapateira, always at your service !!
P.S III Coronavirus (COVID-19) matters
We comply with all covid-19 rules of the Portuguese government at all times. We are flexible with rebookings in case you have COVID-19 related restrictions be it in your home country or our region in Portugal or travel restrictions, and of course, if you have tested positive for covid and you have to quarantine.
We are taking bookings now for stays starting on April 6th.