Algarve Surf Camp Portugal
AMADO SURF CAMP
YES! You too can learn to surf with our surf lessons
In our Algarve Surf Camp, in Portugal, in Carrapateira, or breathtaking Sagres county.
From 295€ a week, our surf packages start ANY weekday and include six days of surf lessons in our epic surf school in Carrapateira (two surf lessons of one and half hours each per day), equipment, accommodation, and breakfast.
See our surf camp and surf school locations in Sagres and Carrapateira, and start dreaming :)…with a VIRTUAL TOUR and DRONE VIDEO for YOU to ENJOY!
Here you book directly the Algarve surf camp Amado without middlemen
Yes, the real surf camp Amado, not yet another consolidator webpage selling zillions of surf camps worldwide pretending to "vet" them for you, so they claim is their "added value". Maybe it's them who need to be "vetted".
Booking directly with us brings you some obvious benefits. To name just a few: speed, accuracy, no loose ends, we take responsibility end-to-end, and yes, lower prices. We are passionate surfers and world-class specialists in the only thing we do: Our surf camp and surf school.
HI, THIS IS JUAN CASTRO,
AT YOUR SERVICE!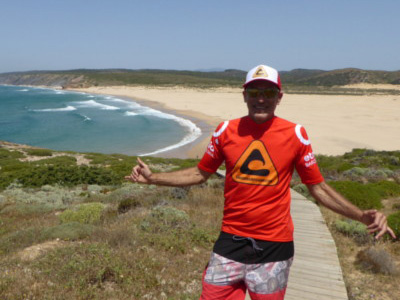 To book online instantly, just visit the corresponding surf package page listed above, and press the BOOK NOW button. You can check availability, get a price quote without commitment, and book anytime with PayPal or a card. 
If you need assistance, look for advice, or are a die-hard manual booker, please send me the contact form or email me directly at bookings@amadosurfcamp.com. You may also WhatsApp me anytime on +351 927 831 568.
We take pride in answering very fast: 50% of emails in 1 hour, 90% in less than 4 hours 100% in the same day
Somebody wrote something very flattering about us guess who? Redbull!
"The most unassuming surf camp in the world is probably located in Carrapateira behind a hill in the middle of some fields.
Surfing takes place at Praia Amado, a 30-minute walk away. The instructors are real originals.
Biggest plus: Original Italian pizza from the stone oven – every day!"
The full Redbull article. in case you are curious. Yes in German, but not a big deal your browser will translate it 🙂
P.S Looking for consistent waves and a friendly surf school? It's a no-brainer: The Algarve
Carrapateira in the Algarve in Portugal is renowned for its incredible wave consistency. As good as it gets surfing-wise for a Surf Camp in Portugal, even more in the summertime. In the summer months, elsewhere in Portugal, many spots struggle to get a decent surfing session.
You can check by yourself from objective sources. Nothing sucks more than a surf trip with flat days. So choosing the right destination is paramount..
If you can walk or swim, you can
learn to surf with us in Portugal
. From zero to hero, in the most welcoming 
Surf School in Portugal
, 
no matter sex, age, etc.. at your rhythm, as Phil Edwards, the legendary surfer said, "The best surfer out there is the one having the most fun." All our instructors are licensed and receive specific training on the needs of families, women, and children, we have both female and male instructors.
P.S II A quick word on Amado, our surf camp and school
Many good businesses turn bad as time goes by and end up disappearing. We try hard to be good and stay good forever. We are native locals born and raised in Carrapateira for many generations, we have been passionate about surfing all along, long before all the hype surrounding the surfing scene. Anyway, we can't complain about surfing becoming so popular, Carrapateira has become one of the world's surfing capitals.
Our surf school and camp have been up and running non-stop for two decades. The beginning was difficult as we started with nearly no resources coming from a humble local family of fishermen, hard work betting it all on it. Luckily it paid off handsomely, here we are, happy to serve you, be it in your initiation to surfing or helping you improve your surfing ability.
True to our local fisherman origin, this is our home, so we have nowhere to go and start all over again, "a fresh start", so we always do our best to make sure you have a great time. We expect to be around many more years, and we or our kids will be delighted to meet your children and your grandchildren, to get initiated in surfing. Here we are, ready to welcome you again whenever the surfing bug bites you, and you absolutely need a Carrapateira "dose". 
We always comply with the COVID rules of the Portuguese government. In case of a COVID-related problem, we will let you rebook to a later date for free. What we mean by COVID problem: travel restriction in your home country or our region in Portugal, or you have caught COVID too close to your booking.